Better Leads At A Lower Cost
Social media advertising allows a unique opportunity for businesses to meet their audience where they are most engaged. Each platform provides a different experience for the consumer and contributes to a business's marketing strategy in exclusive and different ways. Unfortunately, it's often considered that social advertising doesn't provide the same lower-funnel, high-quality results as other digital marketing services so many will write off the need for utilizing this tactic completely. However, our team took this misconception as a challenge to truly prove the benefits and results that social advertising can contribute to each of our clients' goals.
The Client
Cardinal Group Management (CGM) is one of the multifamily and student housing industry's largest and most dynamic operators. As one of our team's strongest and longest-standing client relationships, we wanted to break the mold of their current social ad strategy. With a portfolio at Agency FIFTY3 of around 125 communities located all across the country, the ultimate goal of directing traffic to each community website and generating prospective resident leads seemed to have been met since we produced results that exceeded industry and agency benchmarks. But in the ever-changing world of the digital landscape, old strategies must be revised and optimized to remain at the forefront of an audience's attention.
The Challenge
After working with CGM for multiple years, our team identified areas of opportunity to create a new portfolio strategy to address their needs. The intent would be to provide higher-quality traffic and leads through a lower-funnel conversion and lead generation campaign approach. As with any major rollout, a few challenges were met that required consideration by our team:
Quality of Leads: Although the portfolio's campaigns with the prior strategy were performing with successful metrics that aligned with industry and agency benchmark goals, feedback from the client indicated that these leads weren't qualified.
Platform Privacy Updates: Facebook's implementation of privacy updates related to Apple's iOS14 opt-out of app tracking limited advertisers' complete look into data. The team needed to work hand-in-hand with clients to complete changes to each pages' privacy settings, like domain verification and event configuration.
Timing: The first full quarter that this update was implemented across the entire portfolio was an especially low time in student leasing, which is where the majority of CGM's portfolio lies. With the limited view of data related to the iOS14 updates, our team was concerned if the new strategy would show positive results.
The Strategy
Although the goal of the prior strategy remained the same for the new one, there was emphasis from our team to provide higher-quality leads and higher-intent traffic to meet the client's needs while proving the efficacy of our service. The new strategy focused on two areas:
1. Conversion Campaigns: Considered a higher-intent campaign type, we would still be searching for new prospective residents while directing traffic to the website. However, this campaign's goal type results in a user taking a specific action on a website. The action that the portfolio's conversion campaigns were optimized for aligned with the website conversion goals of each account that all other digital services track and support. We could now track and provide data for each prospect who submitted a contact form on the website or started an online application—all coming directly from our social ads.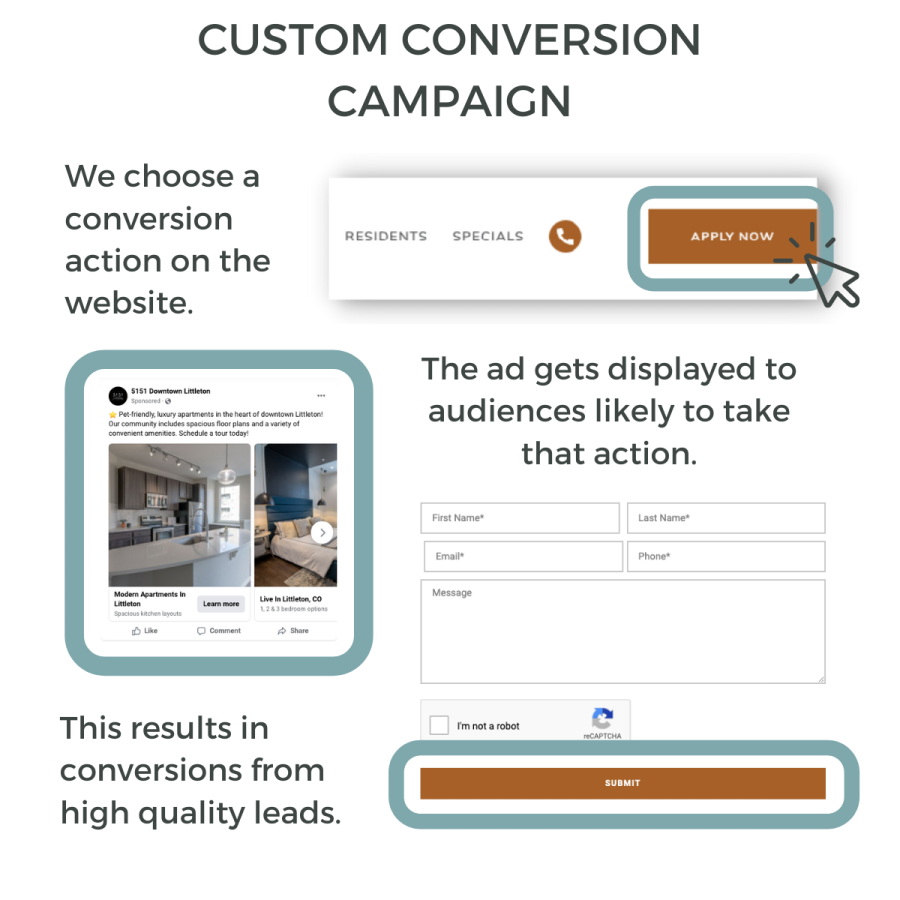 2. Lead Generation Campaigns: Although the prior strategy gave an attractive cost-per-lead that aligned with industry and agency benchmarks, feedback from the client's on-site teams indicated the leads generated from these campaigns weren't qualified. To combat this, we updated the targeting of these campaigns to strictly focus on retargeting audiences, meaning the audience members submitting the forms must have shown prior consideration into the community to be served these ads.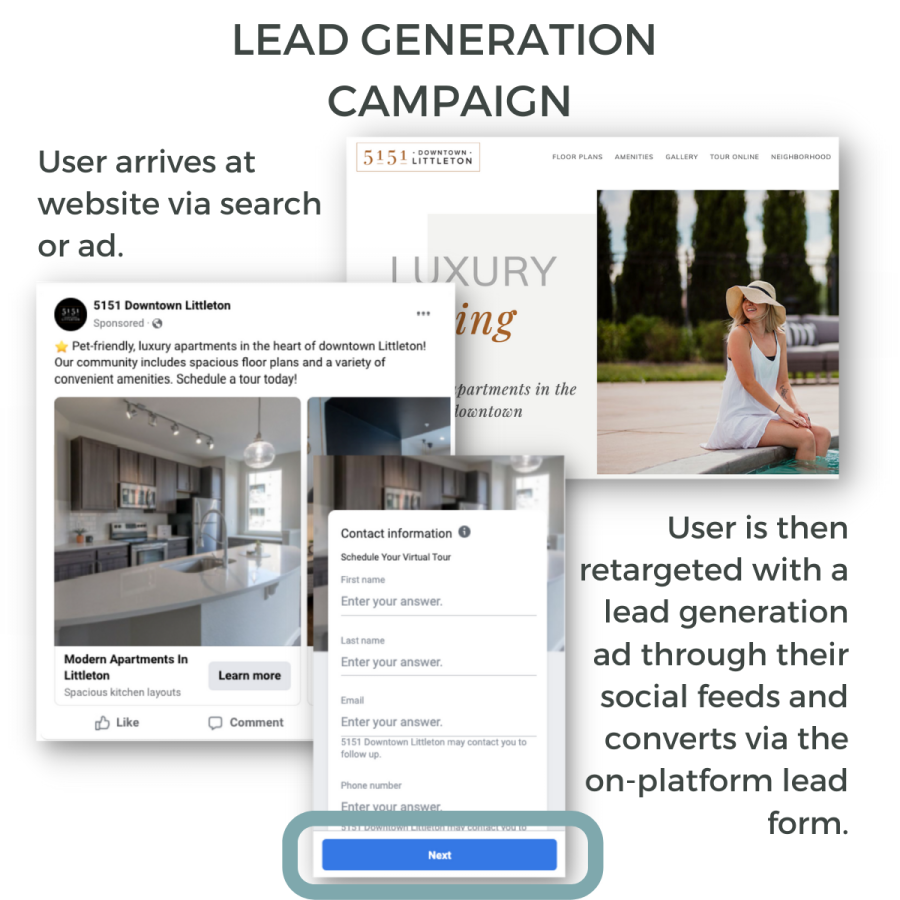 Although the conversion campaign is considered a lower-funnel campaign type than lead generation, we still used these campaigns to find new audience members and direct traffic to the website. Once that member showed consideration into the community by engaging with its social pages or visiting its website, they would be retargeted by the lead generation campaign type. If the new audience member converted on the website, this would also positively impact the account metrics since website leads are considered higher-intent than the ad-generated leads. As the audience member continued to spend time on social media, their consideration would be reinforced by the community's ads until a final decision is made.
The Results
The challenges mentioned made the team unsure of how this new strategy would impact results after the rollout. It was expected that cost-per-lead would increase, but the ad-generated leads would be of higher quality. However, the recent limitations in tracking made it unclear if there would be an increase in website conversions.
Comparing quarter-over-quarter and year-over-year, the initial results of the portfolio were astounding. While spending relatively the same year-over-year, the portfolio experienced a 28.3% improvement in the cost-per-website lead and a 167.76% increase in conversion rate. Additionally, spending significantly less quarter-over-quarter, the portfolio saw a 45.5% improvement in cost-per-website conversion and a 252.52% increase in conversion rate.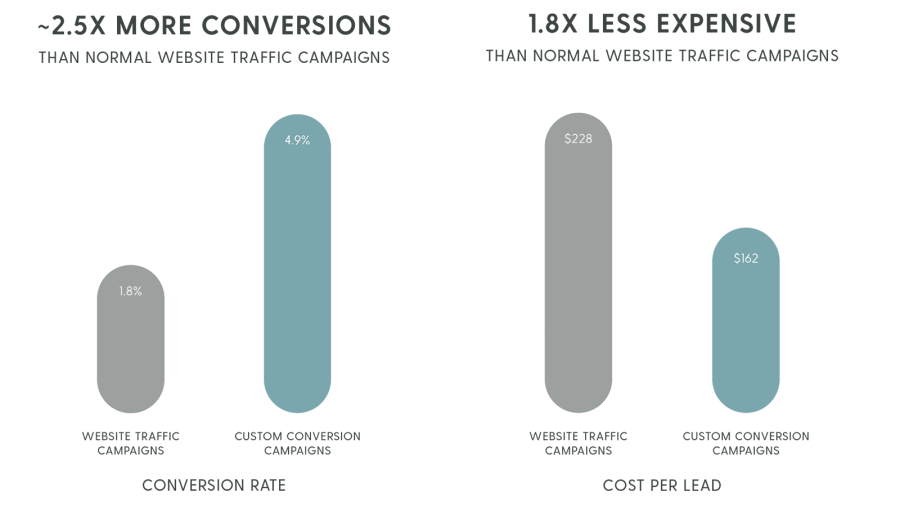 The Conclusion
Despite the upfront challenges expected, the results of the new strategy proved to be more than positive. Higher-quality leads and higher-intent traffic was achieved for the client during their most crucial period of student leasing. Social media advertising was also proven as a lower-funnel, lead-generating tactic in conjunction with the client's other digital marketing efforts.
Ready to get started with a new social advertising strategy? If you're looking for higher-quality leads and higher-intent traffic for your business or website, reach out to our team here.
Sign up for our newsletter.
Stay in the know about our insights and industry trends.