Home is Where the Beat Drops
Project Overview
♪ If you're still looking for an apartment, I feel bad for you, son. ♪
Cardinal Group Management and Agency FIFTY3's "Home is Where the Beat Drops" campaign is the promotional content and contest heard 'round the student housing industry. Whether first seen on TikTok, on our website, or at your leasing office — it sticks. And with a generous grand prize of an all-expenses-paid trip to a music festival of the winner's choice, it's an easy choice to join the fun.
To launch HIWTBD, our design, copy, media, content, and digital teams worked together with the marketing team at CGM to create compelling content that was on-brand, on-message, and quite literally, on everything. In five months, we were able to drive over 1.2M impressions, increase social engagement, and most importantly, help communities sign more leases than they did last year. We deployed an integrated campaign on TikTok, Meta, email, Google, in-person at each leasing office, and directed all traffic to our microsite. So far, this has led to one community signing 100 leases in one week and a 7% increase in pre-leasing overall for over 130 student housing communities in 36 states.
The campaign will wrap on February 28th and we'll announce the giveaway winners for a VIP trip to a music festival of their choice.
Read on for more details on the beat we dropped.
Agency FIFTY3 Services:
Logo & Branding
Marketing Collateral — Posters, Flyers, Signage*
Promotional Items — Stickers, Lanyards, Door Hangers, Fanny Packs*
POP Design*
Email Marketing
Social Media Content ft. TikTok Influencers
Social Ads
PPC
Microsite
*Print Production in Partnership with BENSON Integrated Marketing Solutions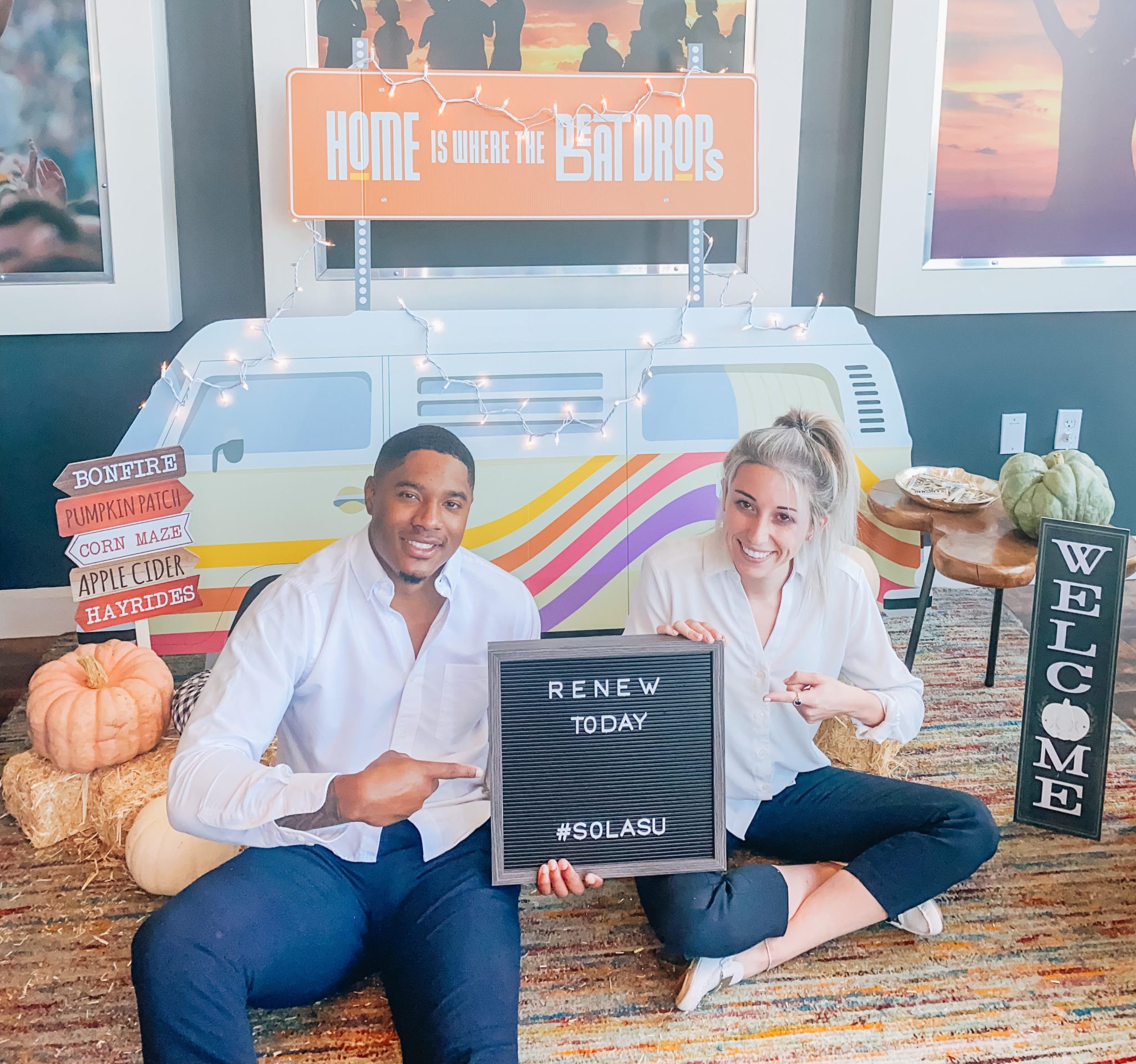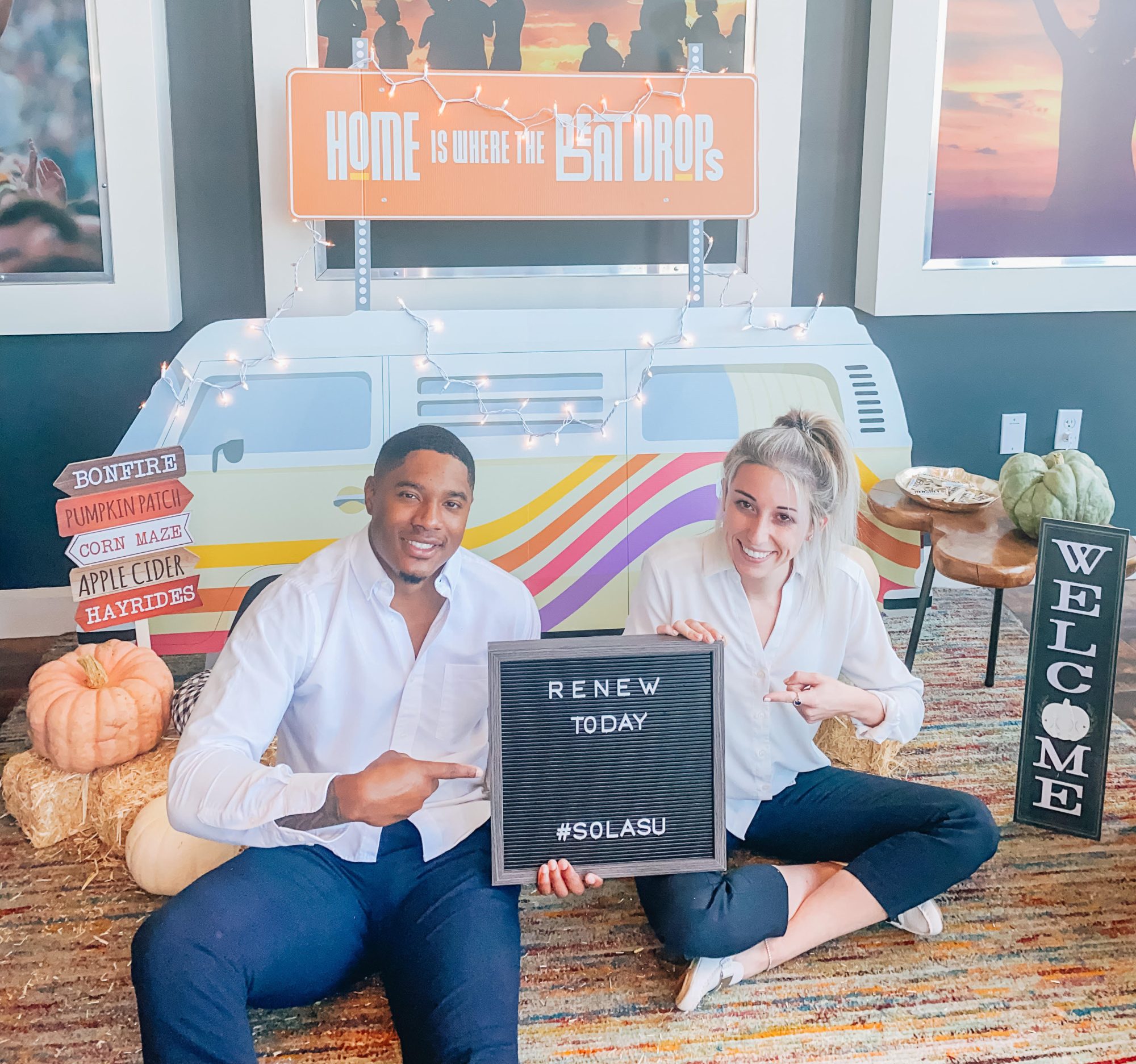 Creative
♪ One more time, I signed my lease
Oh yeah, alright, don't stop the dancing ♪
Led by our Creative Director, Art Director, Sr. Copywriter, and talented design team, the Home is Where the Beat Drops campaign represents the best of our creative services.
We started with a tagline: Home is Where the Beat Drops. We created the characters, lyrics, and vibrant aesthetics associated with the campaign. Centered around the concept that music is universal, we began with this in mind—the idea that home (your apartment) is the perfect place to let your beat drop, no matter how fast or slow that beat might be.
We created a fun play on typographic letterforms that fit neatly together in various ways. We paired the logos with our custom color palette with names inspired by music—Purple Rain, Yellow Submarine, and White Noise, to name a few. Lastly, using sound waves as our inspiration, we developed the HIWTBD brand aesthetic applying it consistently throughout collateral to make every touchpoint sing.
The campaign soared to the next level once we wrote the copy and messaging. We had the idea of playing with popular lyrics and adjusting them to fit the theme. They were a hit. With crowd-pleasers like, "I've got friends in great places." and "Oops, I renewed it again!" community team members and residents alike couldn't help but dance and sing anytime they saw HIWTBD.
Lastly, we designed a custom POP displayed in leasing offices all over the country. We designed it to look like an old VW bus with a road sign to bring the adventure directly to the communities whether or not they won the contest. Team members and residents let loose and paired the POP with their own props — from indoor fire pits to boomboxes and balloons — there was no lack of creativity.
Digital
♪ I wanna sign (sign)! ♪
Our Home Is Where The Beat Drops campaign ran nationally across several different digital media platforms with the goal of driving leases for the upcoming school year. We deployed an integrated campaign utilizing organic social content, paid media, and our microsite (homeiswherethebeatdrops.com)—all which featured our brand elements and graphics specific to the campaign.
Our search ads and social media ads expanded the reach of this campaign on a national scale. We created video and social media content that amplified our creative messaging, promotions, and offers across our client's national market. Produced in-house by Agency FIFTY3, we created a promotional video featuring famous Tik-Tok dance duo Cost N Mayor. The video was placed on social media channels and shared widely while paid search ads were continually updated with relevant copy to improve clickthrough rates.
After 5 months, we saw a 7% increase in leasing YoY, and the total number of concessions offered reduced by 60%. Over 1,245,000 impressions were generated with a clickthrough rate of 7.54% on search and 1.29% on social ads, surpassing our industry benchmark of 0.96%. We also continue to see new user-generated content every day.
Hashtag insights:
#hiwtbd –

475 Posts


#homeiswherethebeatdrops –

182 Posts



Conclusion
We believe the successful increase in pre-leasing statistics can largely be attributed to our stellar art direction, our creative and digital strategies, and our ability to coordinate with several marketing teams at a national scale to deliver a cohesive, engaging message that truly resonated with our target audience. Through it all, we preserved the branded campaign we wanted to create. We delivered a campaign that made it so people wouldn't be afraid to dance in public or at home.
Because Home is Where the Beat Drops.