Project Overview.
Located in coastal Wilmington, North Carolina, Indy West was a brand new development: a conventional apartment community with a high-end, coastal vibe. They wanted to balance the current with the refined and the multifaceted with the relaxed. We built them a successful brand and added essential marketing, a website, social media management, and social media ads.
Building the brand.
Building a new, fresh brand for a brand new community, we set out to match the aesthetic to the location. The client wanted a high-end, coastal vibe to match their proximity to the beach and to display the relaxed Wilmington lifestyle available at their property. To develop the classic, high-end tone, we created a simple logo with elements and brand colors reminiscent of the beach. We carried these elements and colors throughout the branding collateral to create cohesive products which promote brand recognition.
Hard work wins awards.
The marketing journey can feel like an uphill battle sometimes. Don't worry, we'll equip you with the tools you need to climb the mountain successfully. Your win is our win.
Website: Business to Consumer
2nd Place
Best Website in Real Estate
2nd Place
Creating the
website experience.
The goal of the website was to translate the real-world lifestyle of Indy West into a virtual experience. Apartments with top-of-the-market finishes and amenities, they wanted the website to balance coastal charm and Southern hospitality in a way that was unique and stood apart from its competitors.

After creating the brand from the ground up, we were able to carry those elements and beach-inspired colors into every part of the custom website. Then, we added additional pieces—like lifestyle imagery and fonts—to elevate the design and portray these luxury apartments accurately. From the logo down to every detail on the website, everything works together to make Indy West stand out from its competitors—to make it recognizable, coastal, and high-end.
Making an engaging impression.
A property with high-end community amenities in a prime location has a unique lifestyle built right in. The goal of our social media content strategy was to provide a life itinerary: to showcase all the area has to offer, from beach life to city life to community life, and present that as the holistic Indy West lifestyle.
We worked to provide valuable content to both Indy West's residents and to anyone and everyone in the Wilmington area. We paired Indy West's brand with shareable, visually engaging content to give their community free publicity to a local audience. We saw a 332% increase in post engagements from Q4 2019 to Q1 2020.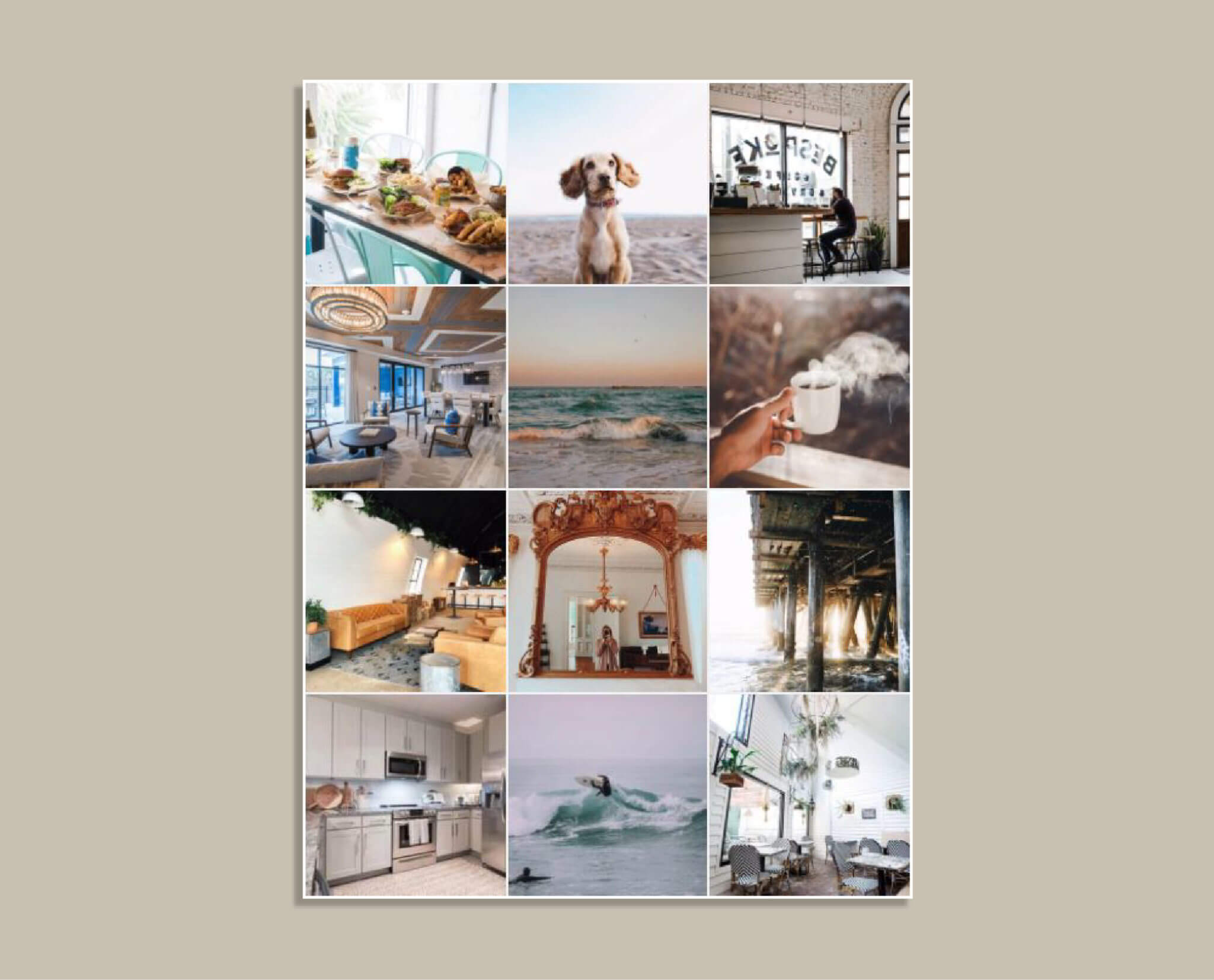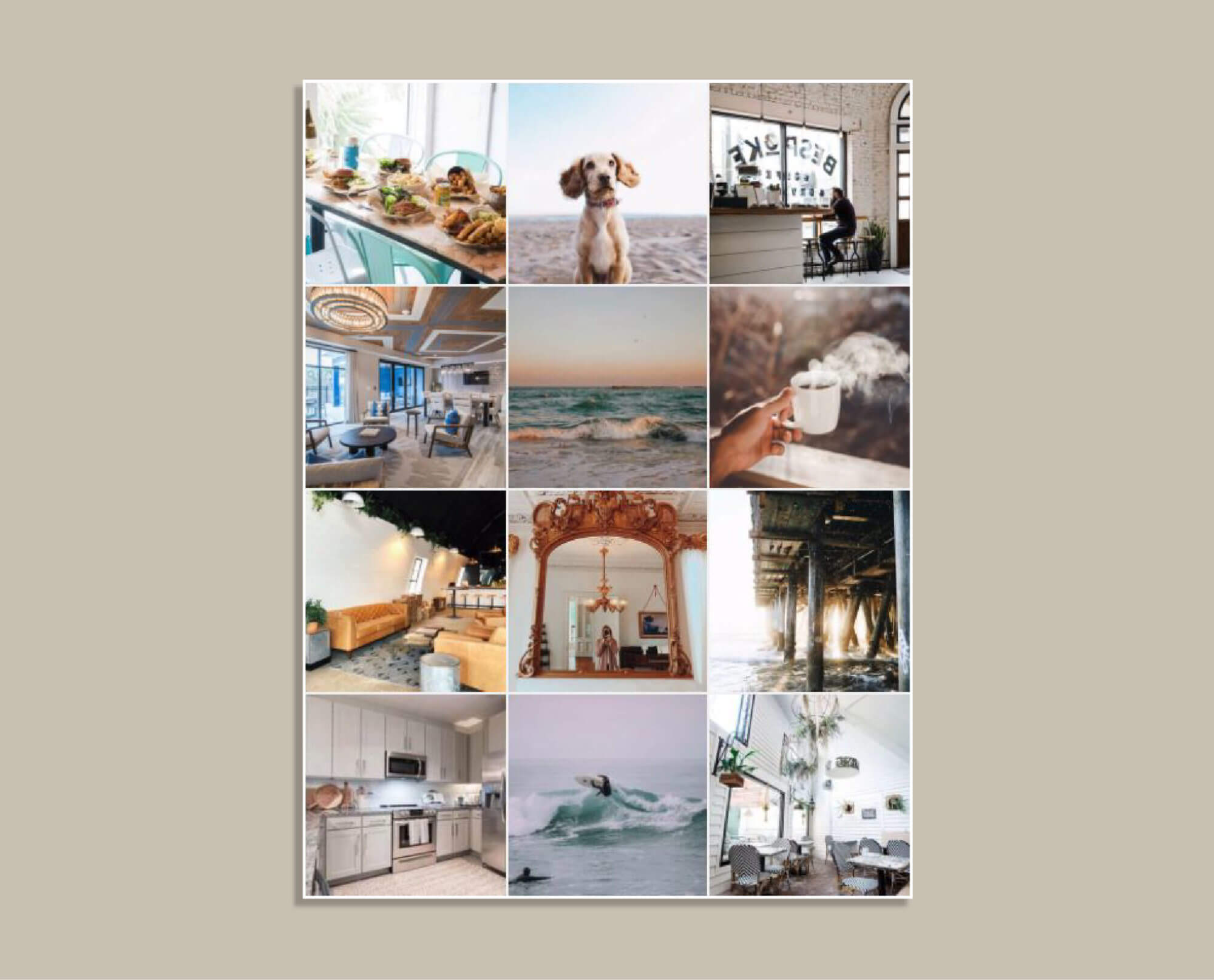 Targeting visibility on social media.
Directing users to the Indy West website, the social ad campaign was designed to build brand awareness and consideration among users across Facebook and Instagram by showcasing the coastal lifestyle, desirable location, and luxurious amenities. This high-performing account generated metrics well beyond our benchmarks.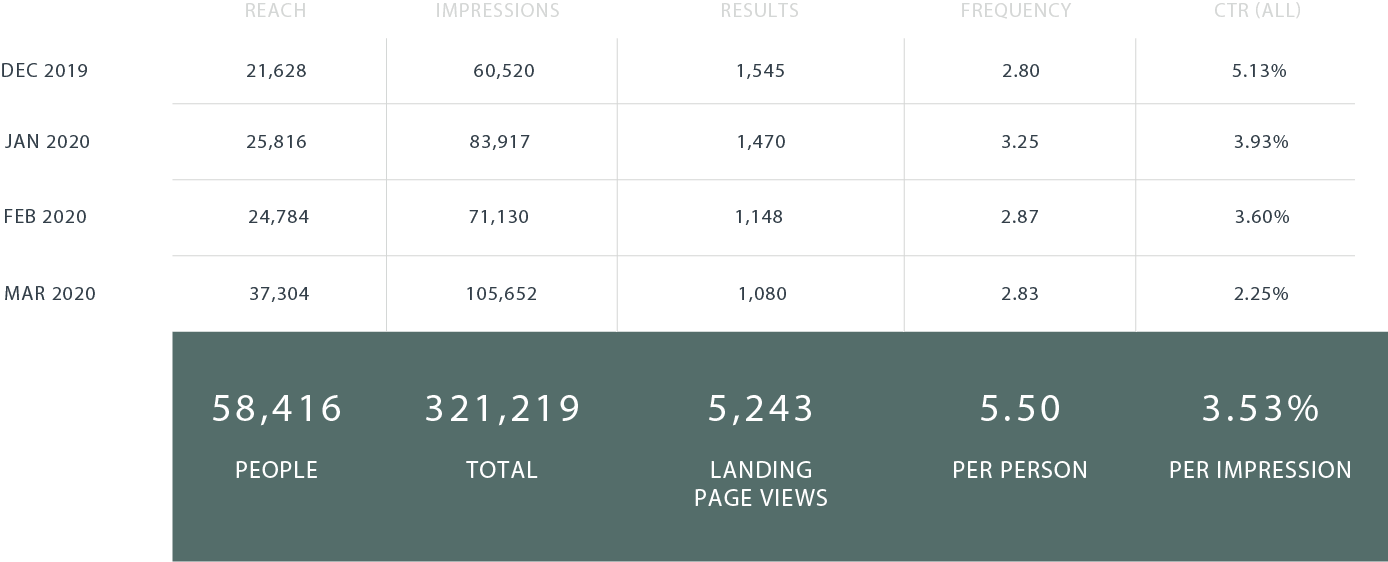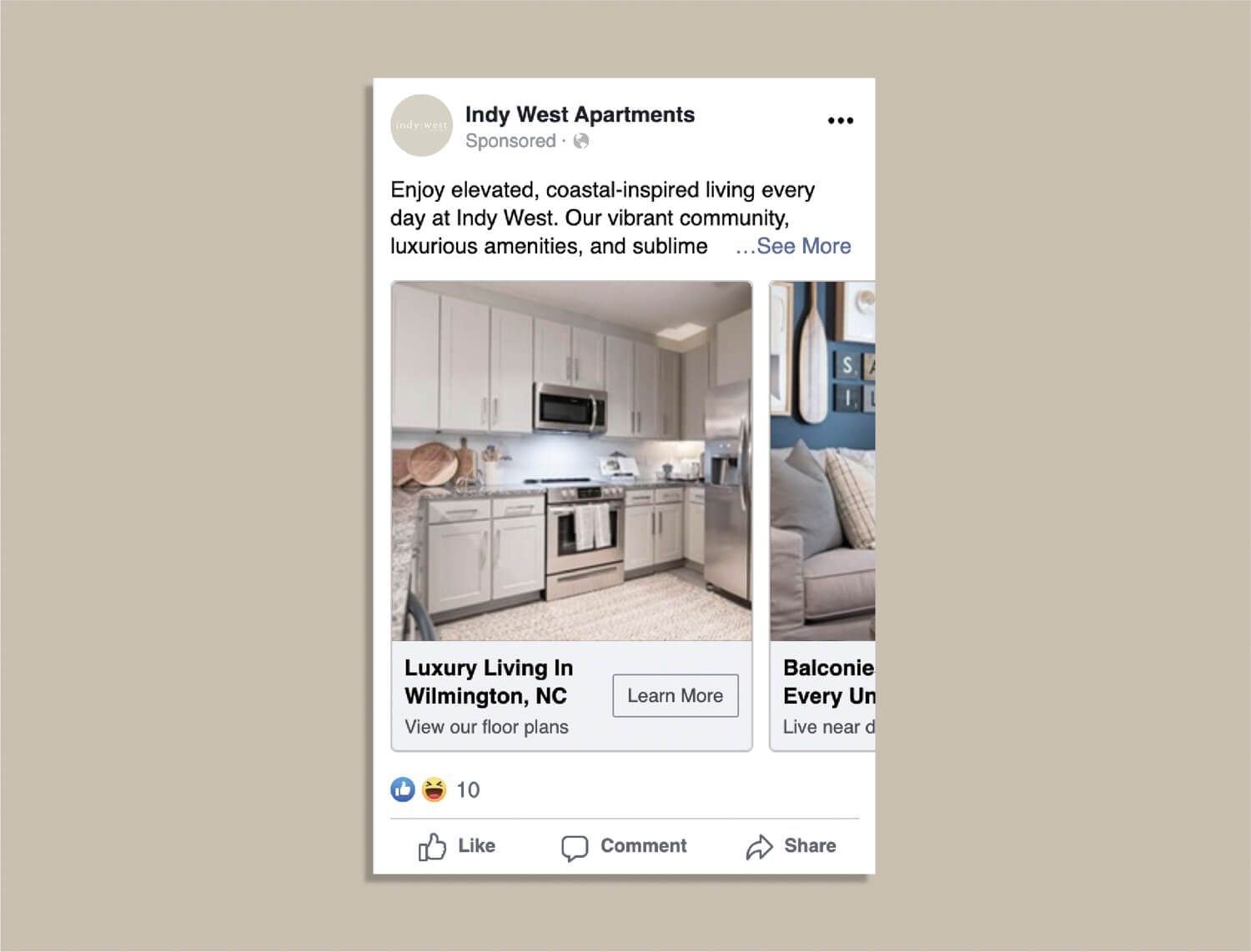 Because we were working with a high-end property with a cohesive brand and lifestyle, we were able to use high-quality, beautifully staged imagery which added value to the creative of our ads. Paired with intentional targeting and formatting, these helped drive engagement and clicks from the audience. We used the carousel and slideshow ad formats—two of the highest performing formats on this platform—and focused on framing the luxurious features and lifestyle of the property through copy.
We targeted users living in Wilmington, NC through two separate ad sets. One targeted users who were interested in related topics such as apartment hunting and renting. The other targeted users with similar behaviors to the property's top website visitors.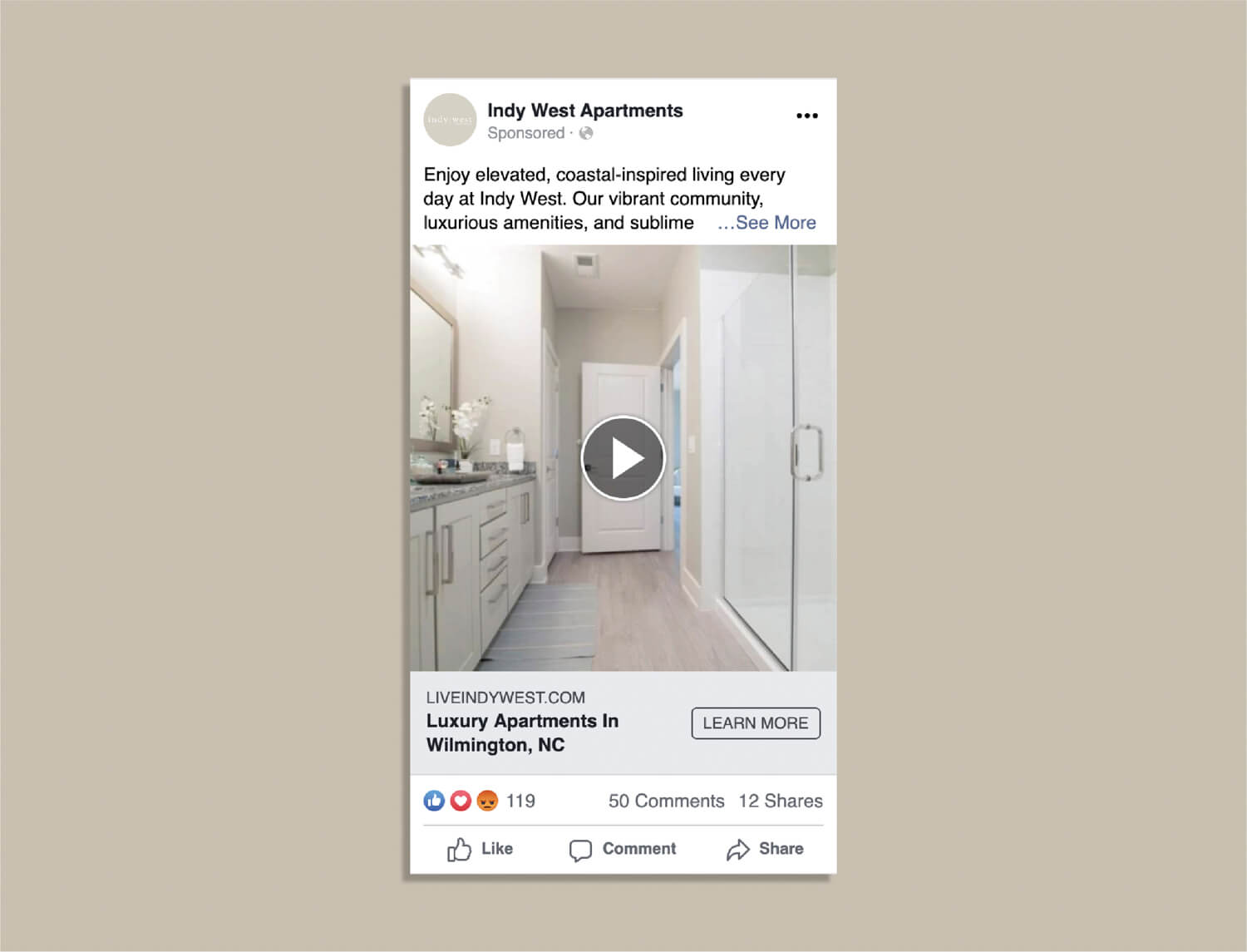 In the time we ran the website traffic campaign for Indy West, it surpassed the benchmarks for the key cost per click and click-through rate metrics we monitor and report on.
The property saw its highest click-through rate (5.13%) in December 2019 and generated the lowest cost per click ($0.22) in January 2020.