Project overview.
Thrive Senior Living operates communities that provide quality care, social communities, and homes to members of the 55+ community. They came to us wanting to drive more leads to their on-site teams. So, our digital team used their knowledge and tools to improve Thrive's online presence and generate more interest in their communities through landing pages and PPC campaigns.
Landing qualified leads.
One major advantage of directing people to landing pages instead of a website is a major reduction in the number of steps the user needs to take from click to contact. Instead of clicking through pages of a website and never getting to a contact form, the landing page includes all the essential information and five different areas to reach out.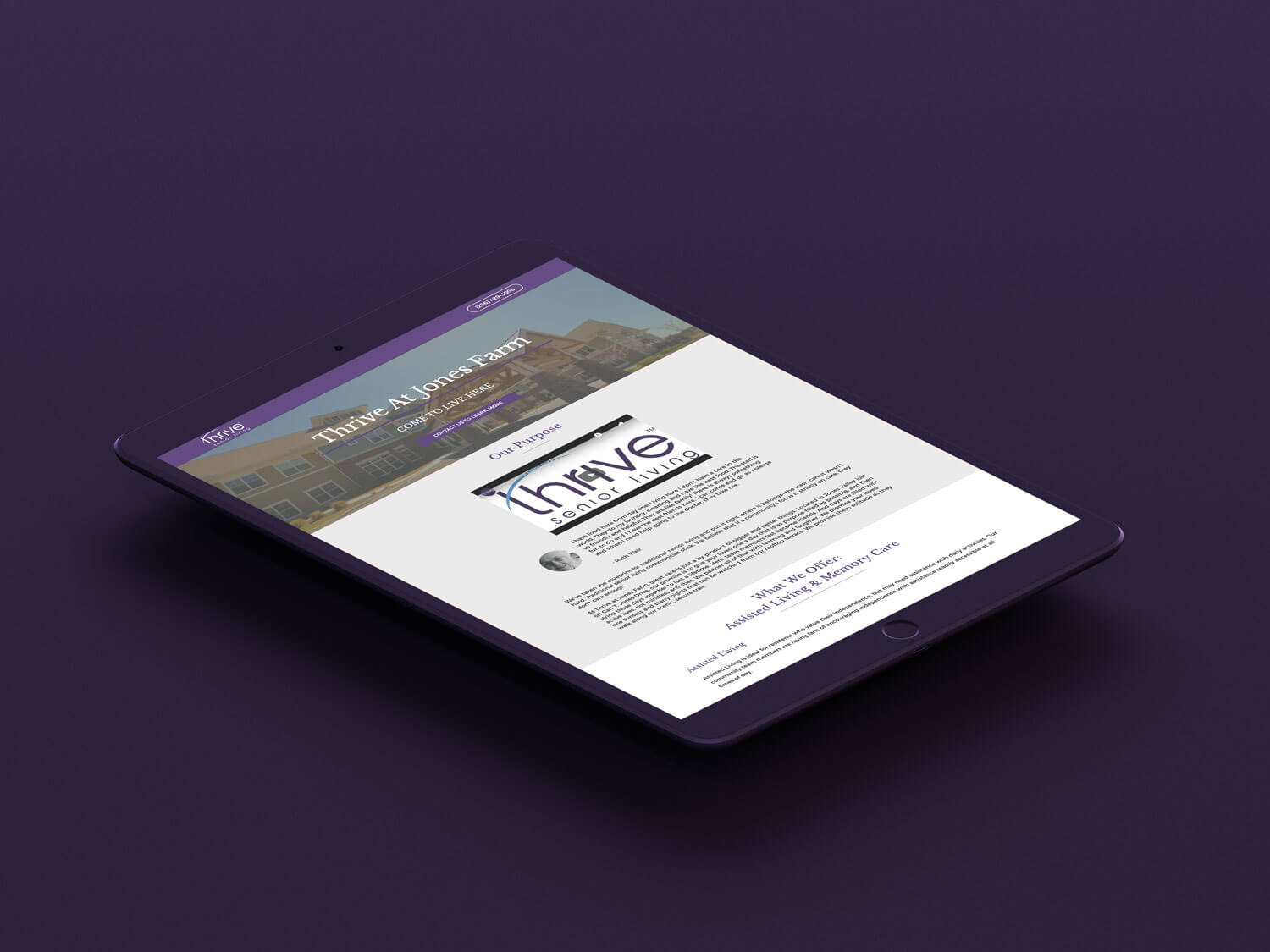 The two main Calls to Action (CTAs) are a button over the top image where the eye lands first and a clickable phone number near the middle of the page. This number directs the audience straight to this specific Thrive community and tracks the call so we can accurately report the number of leads.
In addition to CTAs and multiple areas with contact information, the functionality of a landing page allows all the essential information to be relayed efficiently: services offered, available floor plans, price, and other FAQs. We strategically placed this landing page's contact form next to the FAQs. This means the user has the basic deciding factors in front of them as they fill out their information and click to "Find Out More."
Climbing the rankings.
In terms of multi-family real estate, digital marketing for the senior living industry presents several unique challenges. Highlighting the right information, targeting the right audiences, and presenting it all in a digestible format are all essential, but this audience is unique in that people are often looking for very specific services in very specific areas.
To meet all these needs and drive leads, we needed to build a keyword strategy that worked with Thrive's specific services and communities. When we learned just how specific individuals get when they're searching for memory care services, we shifted our strategy away from "memory care," and focused instead on acquiring users searching for "dementia care" and "alzheimer's care." By meeting users at a deeper level of intent, we dramatically increased the amount of traffic and new leads.
While senior living is one of the most unique areas of multi-family marketing, remaining adaptable and willing to alter campaign strategies has led to a large increase in the amount of traffic we've been able to acquire through our paid search marketing efforts.