Is There ROI For A Company Rebrand?
Whether you are hitting a major milestone, recently restructured, or you're just looking to reposition your real estate branding, the age-old question remains: Is there return on investment (ROI) in a product or company rebrand?
The short answer is yes. When your company rebranding is completed correctly with the right goals in mind, your rebranding ROI can improve your results across the board. If you're looking for the long-winded answer, keep reading.
The Right Rebranding Strategy
1. Know Your Audience
When rebranding your business, you first need to fully understand who your audience is—both your current audience and your target audience moving forward—and how your brand will maintain and generate new business. For instance, if you're a private equity firm and the majority of your clients are high net-worth individuals or institutional investors, then the decisions you make regarding your brand identity, website, and content will likely affect your credibility. You'll need a comprehensive brand story that includes the right brand identity, brand voice, and brand narrative.
In the end and across all industries, brands do best when they're seen as reliable, relatable, and real. For more on that, check out Why Authentic Branding is Important & How To Achieve It.
But your audiences don't only include current and future clients. You also need to speak to the people on your team. Be mindful of talent acquisition and employee retention to ensure you're attracting the best talent in your vertical. Having a strong company culture with clear and identifiable core values—something that can be documented at the rebranding stage in a brand narrative—helps provide positive results both internally and externally.
2. Define Your Business Goals
Next, you need to define and communicate what your business goals are. Why are you rebranding? What do you want to be different after your new rebranding marketing plan? Maybe you're about to hit the hockey stick curve that will send your growth rate into the steep and rapid rate that, in business, is called the inflection point. Maybe you need help getting there. A good rebranding marketing strategy can make it happen. And sometimes, it's not a question of if your company needs a rebrand, but more a question of when.
3. Do Your Brand Research
Lastly, understand why your branding is important. Learn what it does for you and how. Find out what phrases like "brand storytelling" mean. Your branding—whether it's your original brand or your rebrand—controls how your products and services are perceived. And this perceived value is connected to your brand equity. It can have "tangible factors [that] are quantitative values, such as revenue, profit (or lost), and sales numbers."
One way to better understand the monetary value of your brand is to look at market share, transaction value, price premium, revenue generation, and growth rate. At the same time, do not look at these numbers in a vacuum, but more in relation to how the value of your brand is affecting these metrics.
Agency FIFTY3 Case Study
In the summer of 2018, a large client in the student and multifamily real estate space came to Agency FIFTY3 with a major change in mind: complete a full corporate rebrand on the company's 10th anniversary. Their objectives were clearly identified across three facets of the business:
Add clients across two major real estate verticals: Student and multifamily real estate.
Vastly increase unit count under management across the two verticals.
Gain a business presence in additional, untapped markets.
With these aspirations in mind, the FIFTY3 team completed a stunning rebrand that included a complete brand identity with logos, color schemes, usage, fonts, and patterns. We took this a step further and created company values, brand icons, marketing collateral, and brand promo items. Lastly, we topped everything off with a new website, including a custom user experience that focuses on corporate- and consumer-level marketing tactics.
The Results
Three years into the new branding, this client has thrived, far exceeding expectations on all three of their business objectives. To be specific, they've nearly tripled their units under management count that included a near 50/50 split in business growth between current and new clients (See illustrations A, B). As for their last key objective, the company was able to expand by 35%, including the expansion into 12 additional states.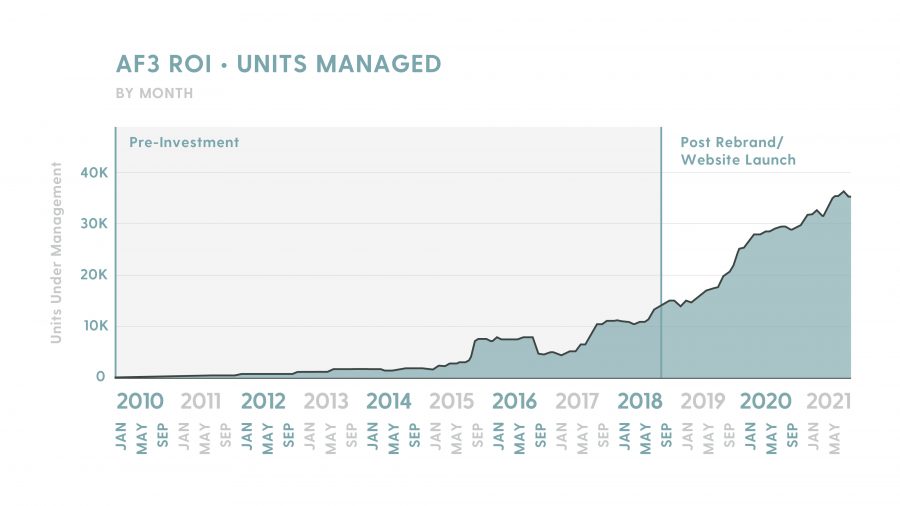 In summary, there is a significant ROI with a corporate rebrand. Not only does it set the foundation moving forward, but a brand relaunch also can be utilized as a recruiting method and set the tone for new clients. Ultimately, this requires careful consideration of company objectives and target audiences.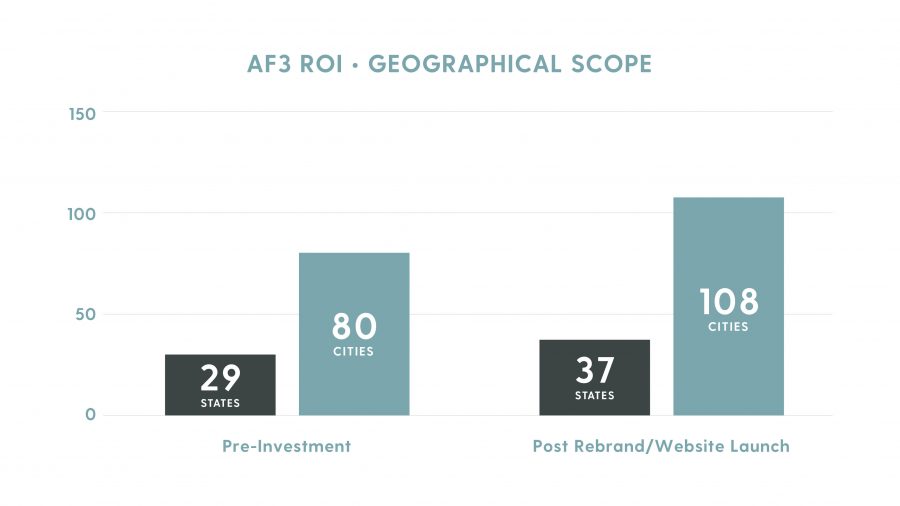 Looking for Guidance?
We're dedicated to real estate marketing and have experience in all the elements of product and corporate rebrands. If you'd like to learn more about our digital, design, and website services, please reach out to our team.
Sign up for our newsletter.
Stay in the know about our insights and industry trends.