How to Represent Your Brand On Your Website
In today's online world, your website can be your business's first impression and the reason you land a lead or make a sale. In our multi-family real estate industry, prospective residents can find your property, virtually immerse themselves in the lifestyle, contact your team, and even apply for a lease. If they do all this online and arrive to find out the on-site experience doesn't match the website, they're going to feel blindsided.
This is why your brand should represent your on-site experience and that should be reflected consistently through every touchpoint, especially your website.
We know, it's a big project. We do it a lot, which is why we also understand it can be difficult to know why, how, and where to start. We're here to answer those questions, so keep reading.
Why Brand Consistency is Key
Brand consistency means always delivering messages that are aligned with your core brand values—in the same brand voice, with consistent visuals, and through the same colors. When your target audience is exposed to all these repeatedly, this helps create brand recognition. It takes time and repetition for customers to go from the brand awareness stage to actually remembering, trusting, and making a purchase.
So what are the benefits of brand consistency? Building trust and loyalty, shaping brand perception, and differentiating your brand from competition. Building trust and loyalty leads to confidence among consumers—they'll come to expect a certain experience and standard every time they engage with your business.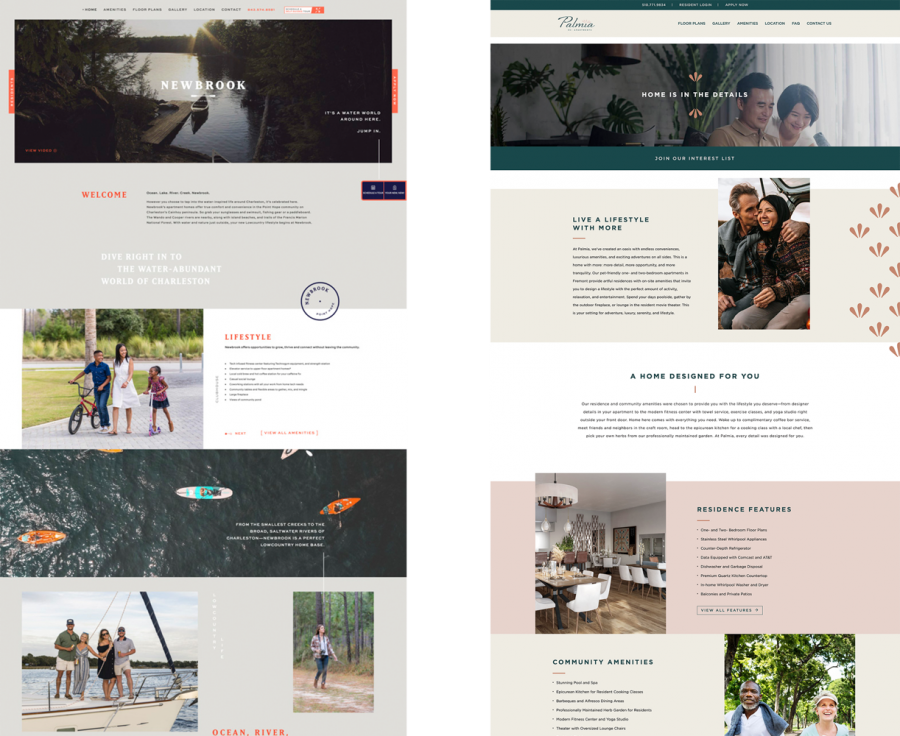 For more insight into shaping your brand, check out Why Authentic Branding is Important & How To Achieve It.
Why Brand Consistency on Your Website is Important
For many businesses today—especially in our niche housing industry—the website is the most important tool for making a good first impression and landing qualified leads. If your audience is encountering your brand for the first time online, they should be able to recognize that experience in the email campaigns, PPC advertising, on-site tour, and print collateral that comes after.
Consistency makes your brand feel more dependable. If your brand collateral has a sophisticated look and feel but your website is cookie cutter with a whimsical voice, you're sending mixed signals. These will confuse your audience and could leave them feeling doubtful about your whole business.
Consider this when choosing between a custom or template website design. Is your brand one that can be communicated through a templated user experience or does it need something unique that matches your branding down to every animation? A custom website is often the best choice when brand consistency is your goal. Remember, the more templated your website, the less it stands out and the less it represents your unique brand experience.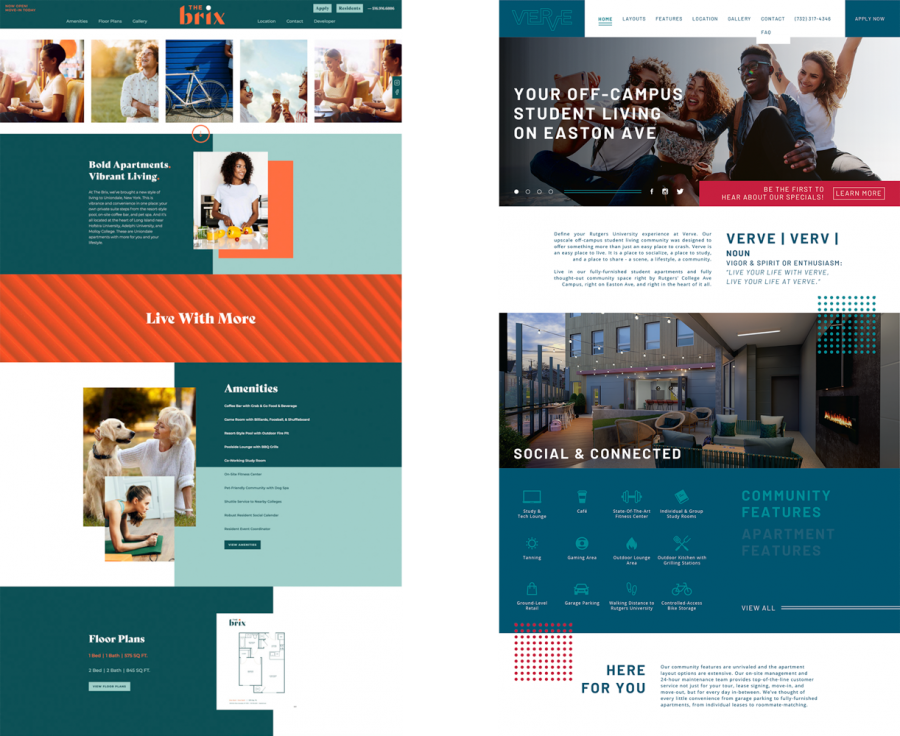 How to Represent Your Brand on Your Website
Although heavily templated websites aren't always the best for developing brand recognition, if you have to go this route, there are still a few things you can do to ensure your brand is accurately represented. The first step is creating brand guidelines and the second is enforcing them. This applies to your logo, logo variations, brand colors, typefaces, graphic elements, brand photography, and brand voice.
These are the elements that build your brand and make it unique. For example, if you're using a cookie cutter website and keeping the templated headlines, you're turning your logo and brand into something that looks and sounds exactly like competitors. Instead, use your tagline, develop headlines and website copy that match your brand voice, honor your logo guidelines, and showcase your exact colors.
All this can and should start long before your website is even kicked off. Ensure you have logo variations that fit brand guidelines, select exact colors that will be carried through print and digital materials, create a pattern that helps trigger brand recognition, write the perfect primary tagline (and secondary and tertiary for that matter), and do a photo discovery that decides your preferred photography style in advance. Check out Finding Diversity in Stock Photography to learn more about how important this last point is.
Veering from these standards will create a lack of clarity for your consumer, and when they don't know what to expect from you, they won't develop trust. So create these as guidelines during the branding stage and make sure they come through on your website.
Where to Start with Your Website Project
At Agency FIFTY3, we offer complete branding services, custom websites, our own templates designed by us, and a unique Website Consultation product. Perfect for the occasions when you need to use a template from a different provider, the Website Consultation provides recommendations for site functionality, design, branding, and copywriting. This is the step where you get to successfully enforce your brand guidelines. Clients come away with website copy that can be used immediately, design strategies to implement, ready-to-use images, and graphics sized for optimal site speed.
We also fully believe that investing in a custom website is worth it. Though this can mean a larger cost, their benefits often outweigh the lower cost of a heavily templated site. For us, starting from scratch with a custom website provides the opportunity to really hone your brand and bring forth the most important aspects into the design process while staying true to your overall voice. In partnership with you, we customize everything from the overall user experience down to every single line, photo, and word.
Where Can You See More?
We have a large portfolio of custom projects and template websites as well as branding projects. You can get more in-depth insights on our featured work page. Here, you'll find some of our proudest moments and our most recent projects.
If you'd like to learn more about our digital, creative, and website services, please reach out to our team.
Sign up for our newsletter.
Stay in the know about our insights and industry trends.