How to Choose Between a Template or Custom Website
So you need a multi-family real estate website designed for your apartment community or company and you're not sure where to start. Well, you've definitely landed on the right page.
At Agency FIFTY3, we design custom websites from the ground up and template websites with a solid foundation, and we specialize in the multi-family real estate industry, including student housing, manufactured homes, senior living, single-family rentals, and conventional apartment communities.
Whether you choose a template or a custom site, our goal is always to help you stand out among the crowd—or, as we like to say, stand above the noise—with heightened online experiences, clear user goals, and search engine-friendly content.
But which one should you choose? Keep reading to understand the difference between template and custom websites—complete with examples, direct comparisons, and frequently asked questions.
The Difference Between a Custom Website Design vs. Template
Custom websites allow a clean slate for our designers to innovate and create—the content structure, user interface (UI), user experience (UX), and more. At FIFTY3, we thrive on the ability to create a brand from start to finish (here's one of our favorite case studies). Starting the website from scratch allows us to create a user experience that most authentically reflects that brand so your website goes beyond the branding basics—fonts, colors, patterns—and includes customized movement, site mapping, and more.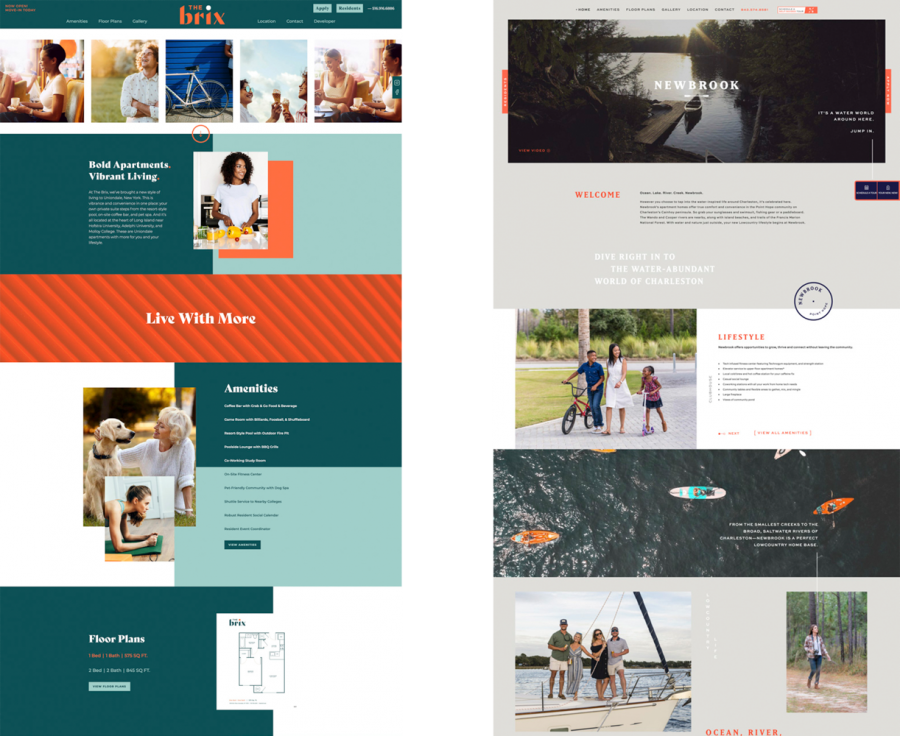 Template websites provide structure to the design choices you, as the client, have to make. A templated website design is a user experience skeleton that is tailored with your brand fonts, colors, patterns, images, buttons, photos, and copywriting. We have a wide variety of templates to choose from, and these can kickstart your website project with a layout we already know provides effective UX.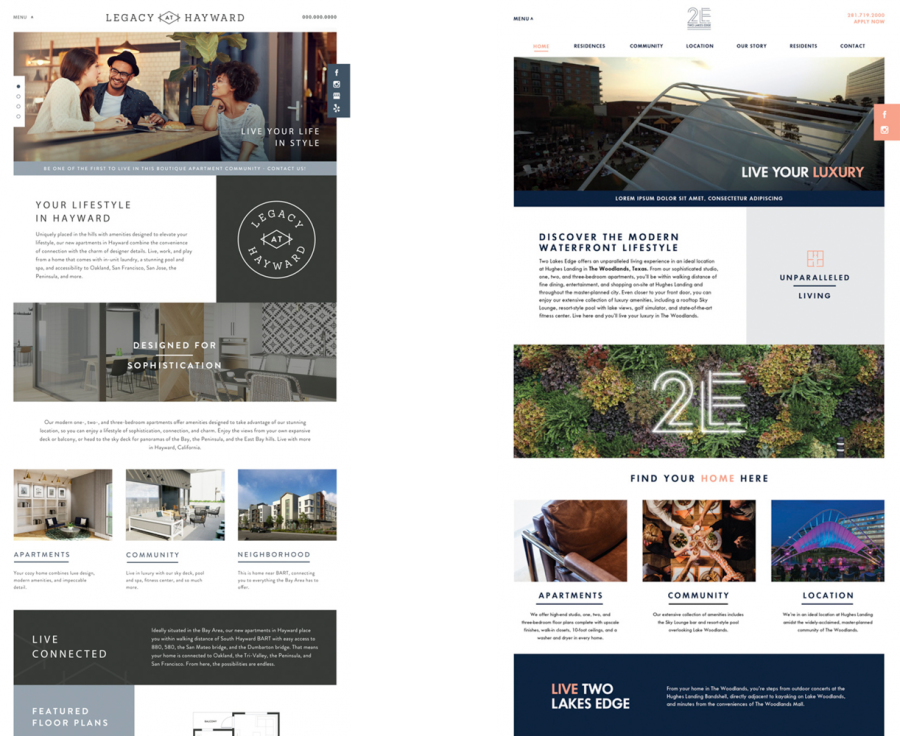 In general, because the experience is laid out already, template websites can be turned around on a faster timeline than custom. Because they're brand new, custom sites take more time in both design and development, and the prices match this difference.
Template Website Design & Development
Lower Cost
Shorter Timeline
Branded UI
SEO Copywriting
Custom Website Design & Development
Custom UX & UI
Custom Site Map
Custom API Integrations
SEO Copywriting
Q&A with a Website Manager at Agency FIFTY3

What is an API integration or API feed? And can I have one on my website?
API stands for Application Programming Interface, which is a software intermediary that allows two applications to talk to each other. This function helps us integrate property management softwares like Entrata, Yardi, and Real Page with your website while maintaining the aesthetic or UI of your website and brand. Our team has perfected the implementation of these set-ups for many PM systems and over 75+ sites in the last year.
Does FIFTY3 host the website?
Yes, for a monthly fee, we will host, secure, backup and maintain plugins on any site we build. This add-on service helps ensure all your website files are safe and sound on our dedicated server.
We can also place the website files, for all of our builds, on any server of your choosing.
Do I need to worry about WCAG and ADA compliance?
Yes, inclusivity and accessibility are very important, especially in the housing industry. Compliance standards can be time consuming and hard to understand, but once standards are set, it's easy to stick to them.
We make sure keyboard navigation, color contrast, alt text, copy and button sizing, and basic legibility are up to the WCAG or ADA standards. Both custom and template websites should have this standard practice for compliance.
To read up on some of our website accessibility practices, check out The Importance of Web Accessibility & Building an Inclusive Website.
Looking for examples?
We've been designing custom websites and template websites for a while and have a ton of insights on our featured work page. Here, you'll find some of our proudest moments and our most recent projects.
If you'd like to learn more about our digital, design, and website services, please reach out to our team.
Sign up for our newsletter.
Stay in the know about our insights and industry trends.