Website Trends We're Most Excited About in 2021
The last year made a major impact on our world that has carried into online user experience and user interface design. In 2020, we saw a vast increase in online presence due to a reduced ability to gather in person. People started spending more time in front of their screens, they improved their own computer technical skills, and web design, UX, and UI needed to adjust accordingly.
Over-stimulating designs became less popular, digital experience needed to be more engaging, sites suddenly needed to be even more usable, and major events spotlighted representation and accessibility issues.
Here are the biggest 2021 website functionality and design trends we'll be outlining:
Muted & Comfortable Colors
Site Speed
Streamlined Navigation
Improved Representation
Better Accessibility
Captivating Questionnaires
Parallax Scrolling & Movement
Abstract Art Compositions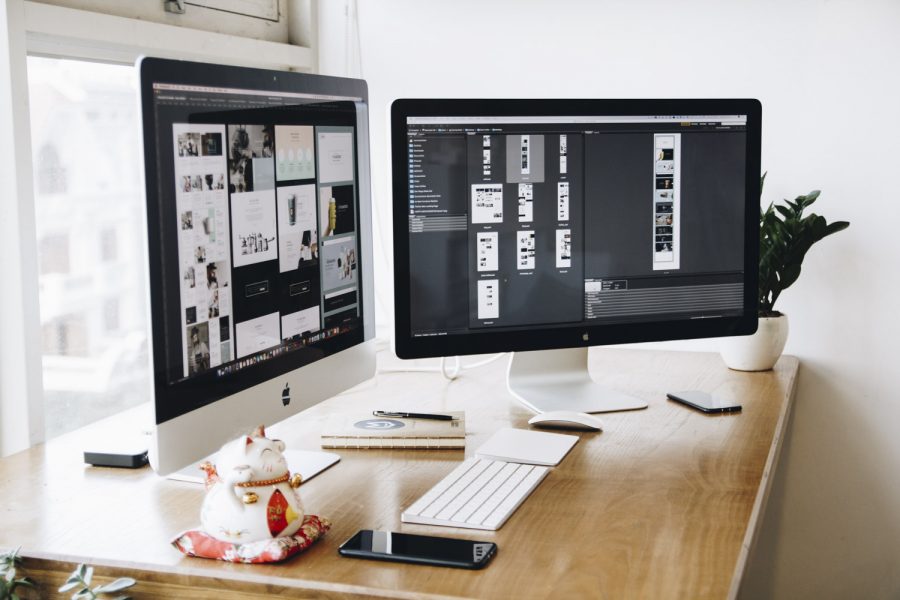 Muted & Comfortable Colors
The year 2020 was filled with loud, confusing messages. In response, people are ready for clear, calm design. One of the biggest website design trends for 2021 will be softer, muted colors. These feel more comfortable and organic, which makes scrolling for hours feel less overwhelming.
We don't think bold colors or branding will disappear completely. After all, we still need them to convey different emotions and highlight certain pieces of information, but we do expect muted colors to be the focus.
Site Speed
As more people become technologically savvy, one of the largest effects on website functionality is an increased expectation for efficient site speed. In the early 2000s, if you asked someone how long they were willing to wait for a site to load, they might say 30-60 seconds. Now, you have three seconds before the user gets frustrated and bounces off the page.
Site speed can set your website high above the competition. And though we've been cognizant of site speed for a while now, increased demand from the general public has created improved tools and website development strategies to help. Some quick tricks include condensing images, lazy loading images, and getting rid of excess code.
Streamlined Navigation
As more people get accustomed to online experiences, we're entering the age of simplicity for user interface and user experience. For example, using your logo as a link to your home page has become standard practice in website menus or navigation. Many people click the main logo assuming it will guide them back to the home page, but there are still many menus including an unnecessary home button and using up space.
Designing a minimalist menu—and, of course, fewer total pages—ensures the user experience is as intuitive as possible. This makes the information your user is looking for—like floor plan options and application information—easy to find because it doesn't get lost in a jumble of information.
Improved Representation
This year, the Black Lives Matter movement shone a light on the need for better awareness, diversity, and understanding throughout our country and our world. We have long seen diversity as an important part of our designs, but this year helped highlight more tools for better representation, and it invigorated our passion to educate ourselves and our clients.
Whether it's through copy, images, or the user experience, the events of this year pushed our team—and teams everywhere—to find ways we can make digital spaces more accessible and representative of the full human experience. That means diverse representation in imagery, key website functionality that improves accessibility, and inclusive language that doesn't exclude any individuals.
We don't view this topic as a passing trend, but we are excited to hear from more amplified voices and see improved education surrounding digital diversity continuing through 2021 and beyond.
Better Accessibility
Especially in a year in-person interaction became very limited, inclusion of all users is extremely important online. More digital interactions means more roadblocks and hardships for a user who may not feel comfortable on many websites. For more information on this topic, check out The Importance of Web Accessibility & Building an Inclusive Website.
In brief summary, nearly one billion people in the world rely on accessibility features to navigate the web. More than ever, website designers are paying attention to this aspect of user experience. We want to keep working this inclusivity and accessibility into all of our sites to make sure all users are comfortable browsing. This goes from recognizing the importance of color contrast all the way to adding alt text for images—both are simple and great accessibility standards to practice.
Captivating Questionnaires
Creating an enticing experience for a user can be difficult because the attention span of a user online is hard to capture—especially in our space, multi-family real estate marketing. Adding captivating questionnaires or quizzes can help boost engagement, guide a user to the most helpful content, and even capture leads.
As an example, think about all of those BuzzFeed questionnaires you've filled out for no reason. You may not know why, but you really want to find out what your ideal apartment is based on your furniture choices. And this is just one example of a quiz or questionnaire that could excel on an apartment community website. Reach out to our team if you want to partner up and build it.
Parallax Scrolling & Movement
Parallax scrolling is when the user scrolls and the background moves slower than the foreground. It's a great way to give a website a 3D look and feel. The curiosity—wanting to see the full design or animation—incites the user to keep scrolling, and the added movement makes for a uniquely elevated user experience.
Abstract Art Compositions
The use of abstract illustration and art in web design has taken off in 2021. This kind of art allows for unique creativity to shine through, and it's less restrictive than stock photography. As it gets easier and easier for individuals to learn how to create digital art, we will continue to see this element grow in online spaces.
Want the Most Functional Website?
As our lives operate online more and more, it's essential our online business presence keeps up with the times—and digital times move quickly. If you want more information about how you can implement these strategies into your web design and development, reach out to our team. We love this stuff.
Sign up for our newsletter.
Stay in the know about our insights and industry trends.