How Facebook Ads Have Evolved & What It Means for Marketers
The date is November 6, 2007 and Facebook founder and CEO Mark Zuckerberg addresses a room of senior executives from our nation's largest corporations in New York to announce the launch of Facebook Ads in a statement that he declares will "represent a completely new way of advertising online."
Fast forward more than a decade to the modern version of Facebook Ads as we know it, and we see a platform that has become a pioneer in the digital marketing world—setting the model for others to replicate, agiley adapting to current times, facing public backlash from every angle, and continuing to not just prevail but flourish through it all. Coming up on 3 billion users, Facebook is by far the largest social network in the world based on both global reach and total active users. A well-strategized Facebook presence is critical to many companies' social media strategies. It's a key factor in processes like creating brand exposure, generating interest, verifying legitimacy, and driving traffic to quantifiable actions.
Facebook Ads and Fair Housing Law Compliance
The beauty of Facebook Ads is that they have always been in constant evolution with the changing times. Restrictions have been increasing with respect to privacy and data regulations, and extra compliance procedures have been implemented, especially to comply with fair housing laws in the multifamily housing industry. Understanding fair housing laws is essential to all multifamily professionals when marketing their properties and even more so for those advertising on social media platforms like Facebook.
Within the past year and a half Facebook has implemented several restrictions to their "Special Ad Categories," which include ads for credit offers, real estate listings, employment opportunities, and social issues or elections. In a nutshell, you will no longer be able to target ideal renters like you may have been able to in the past.
Some of the primary changes to housing advertisements processed through Facebook's Marketing API include:
Advertisers cannot target by age, gender, or zip code

Including 55+, senior communities, and student housing

Multicultural affinity was removed from targeting
Behavioral interest targeting was removed
All published ads are added to Facebook's Ad Library archive
How Domain Verification Is Affecting Facebook Ads
On the topic of compliance, the integrity of Facebook Ads has been a major concern recently. This led to one of its most recent big rollouts in Domain Verification. But what actually is Domain Verification? From Facebook for Developers, "Domain Verification provides a way for you to claim ownership of your domain in Business Manager. This ownership allows you to control editing privileges of your links and other content to prevent misuse of your domain and to keep bad actors from spreading misinformation."
DV ensures that the sponsored posts people see in their Facebook or Instagram News Feeds are actually coming from the real source rather than third parties spreading information that may be construed as misleading or deceptive.
Taking a step back, Domain Verification is the centerpiece to a bundle of changes that Facebook has been rolling out this year, which have come as a result of Apple's iOS14 privacy policy updates. Apple will now require iOS 14 users to "opt-in" before sharing their data with third-party apps. App developers will have just one chance to deliver a prompt to ask for a user's permission to share their data and app activity. With more than 95% of Facebook's traffic coming from mobile users, this will have a huge impact on how people's app usage is tracked.
How Facebook Pixel Events and Tracking Them Is Changing
One of the major adjustments coming with this update is the number of events that can be optimized and tracked per domain. Where there was previously no limit to the amount of "Facebook Pixel Events" one could create and track per ad account, now there is a cap of eight conversion events per website domain. Once—and only once—that domain is verified, an admin or manager can configure and prioritize the eight available conversion events within Business Account's Events Manager.
Along with these new tracking regulations comes the restriction that only one event per user interaction can be recorded, which stresses the importance of verifying your domain and prioritizing your conversion events. At first it appears that e-commerce sites will be the most impacted by this. Imagine the journey a potential online shopper takes after clicking on a Facebook or Instagram ad. They visit a website, make a search, view content, add to cart, initiate checkout, and purchase. Facebook will now only track one of those events: the highest-ranked one the user arrives at in their journey. Previously, campaign managers could collect data on every step of the way and record all of these events.
Let's paint the picture of what this could look like for multifamily housing in what Facebook is referring to as Aggregated Event Measurement. Within Events Manager, up to eight events can be tracked or optimized for, and a digital marketer will create and rank these in priority via a drag-and-drop system. For example, with number one being the highest priority, a given property's events may be ranked like this:
Submit Application
Lead
Schedule
Contact
Find Location
View Content
Search
Page View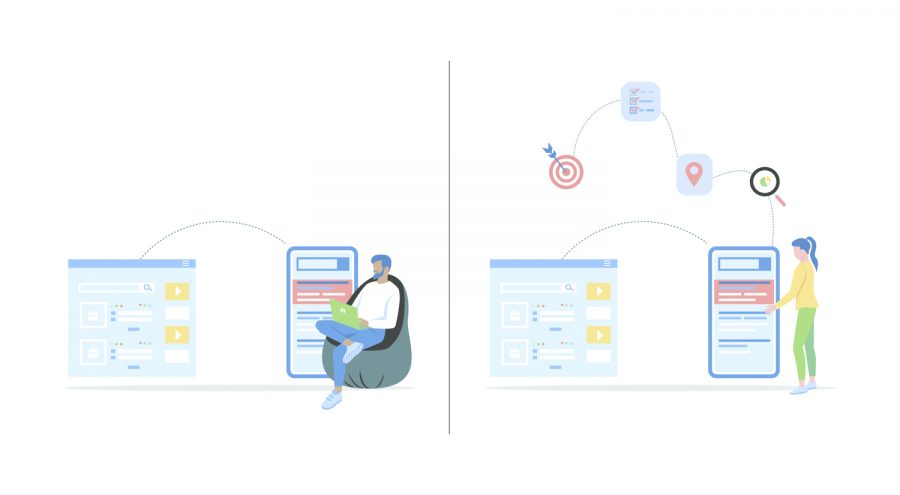 With respect to iOS14's opt-out policy, we can compare two different scenarios to give us an idea of how Facebook Ads will be impacted. Bob decides to opt out of being tracked by Facebook when prompted, meanwhile Susie allows Facebook to track her activity (or is using a non-Apple device).
Bob, who isn't being tracked by Facebook's pixel, scrolls through his Facebook feed, see's your property's ad, watches half of the video, likes the post, and clicks on the video ad. All of this information up to this point is still going to be tracked by Facebook in your Ads Manager because it is happening on Facebook. Once Bob leaves Facebook and arrives at your website, he may scroll around, view a particular floor plan, and click on some tabs. This information will no longer be tracked in your Ads Manager because Facebook does not have Bob's permission to use its Pixel to collect his data.
If Susie, who allowed her activity to be tracked, goes through the same experience, all of her activity within Facebook will be tracked just like Bob's. However, once Susie makes it to your website (with a verified domain) and starts to complete various actions, the event pixel will fire for each conversion event that has been set up as she completes each action. Keep in mind though that only the highest-prioritized conversion event Susie completes will be tied to her as a user. Let's say that Susie views some content featured on the home page, checks out the Contact Us section, and then clicks through the Schedule tab to set up a tour, only the "Schedule" event will be tracked in your Ads Manager because Facebook will only track the event closest to the top of your priority list, using the list above for our example.
Facebook has been warning advertisers of these changes for most of 2021, but we are yet to see full-enforcement of the new policies just yet, though they should be coming very soon. That being said, now is the time for digital advertisers to create their prioritization lists to allow for a smooth transition to Facebook's eight-event tracking system. This is especially important for campaigns optimizing for "custom conversions" to prevent any sort of interruption in ad delivery.
We Know, It's a Lot
Life in the digital marketing world is ever-changing and can be confusing. If you need any help or guidance on how to navigate changes to Facebook Ads, Agency FIFTY3 has the experts. We would be happy to be your guide and work with you to ensure that your social media ads are effective, compliant, and driving quality results.
Sign up for our newsletter.
Stay in the know about our insights and industry trends.