Characteristics That Will Help You Become a Thought Leader
In today's ever-changing digital world, consumers or employees rarely rely on just one source of information for news. But when you're looking for updates on the latest technology, sports news, or consumer info, there's probably someone you rely on the most for accurate information in that niche. These are the people who can present the latest info in an understandable, digestible format as quickly as possible. They're people, media outlets, and companies you trust.
Take Agency FIFTY3 as an example: a medium-sized marketing agency focusing primarily on the multi-family housing industry. With this operation comes a myriad of services we can provide to our clients. From PPC marketing campaigns and an in-house SEO product to our social media and design teams, our goal is to be on the front lines of the latest trends and news so we can regularly and efficiently improve our products and services for our clients. In addition to delivering top-performing marketing, we also want to be a voice in the industry, informing our clients of the latest trends and updates as it pertains to their business. This is what a thought leader does.
What is Thought Leadership?
Thought leadership is an individual or a company that is recognized as an authority in a specialized field—one whose expertise is sought and often rewarded. In other words, a thought leader is any organization that provides front-facing, fast, and reliable information to the industry they serve.
No matter our industry, we all seek information in the quickest way possible. As someone who's worked in the digital marketing space for almost eight years, I have a list of reliable publications and sources where I find information relevant to my profession. I've also been a part of organizations that are proud thought leaders: they blog or report or share industry news.
The digital marketing space moves as fast as an NHL hockey game. There are delays, changes, updates that sometimes go offsides, and people who decide to scream and yell (looking at you, John Tortorella) when something looks different. Being a thought leader means being able to translate all of that into insight and advice at the drop of a hat in order to work flexibility and implement changes efficiently.
For our clients in multi-family real estate, our goal is to learn about tech updates, software updates, federal regulation changes, and industry news then combine those with our hands-on expertise to create consumable information that tells you how these affect your marketing efforts. And this blog is just one place where we do that.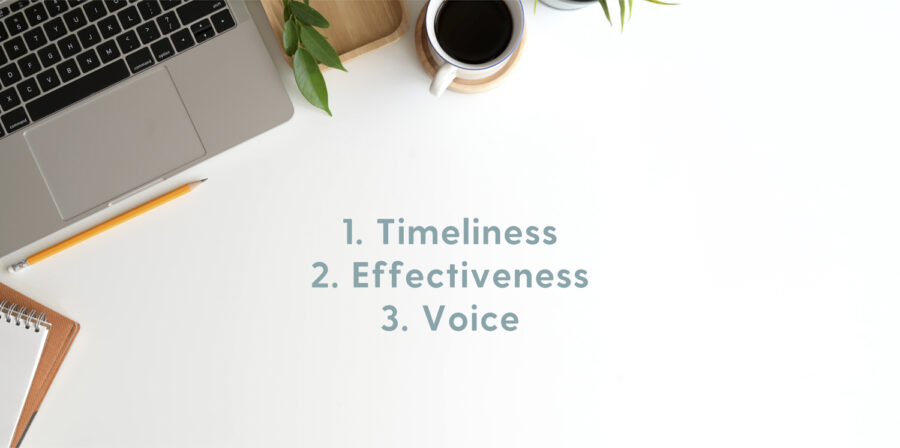 Three Characteristics of Thought Leadership
1. Timeliness
How does an organization obtain the upper hand on the latest news and trends so they're able to translate and implement it into their game plan for the benefit of their clients? The key here is timeliness.
To be a thought leader, you need to be the resource for news in your niche. So, when Search Engine Land publishes a blog post about changes to the search terms report, our team comes together as soon as possible to discuss and research how this will affect our clients specifically in multi-family real estate. Then, it's our job to organize the information and the resources necessary to translate this into understandable terms for someone who may not be familiar with the digital marketing lingo and also into specific information related to our niche industry.
As a thought leader, the goal is for people to get their information from you—and to trust that they're getting it quickly.
2. Effectiveness
Google Ads releases an update to their platform. Now what? Well, with every update comes a ramp-up period. We need to determine as soon as possible how this will look with campaigns, how we can provide concise and strategic updates down the road, and how will this affect performance positively or negatively.
Professionals in their space can look to any organization for product and service updates but look to thought leaders for tips and advice on how to put those updates into play. It's the combination of timely knowledge and creativity. So, how do we use this timely information and creative, strategic thinking to effectively navigate changes? In short, how can we make this work for our benefit? A thought leader has to have the answers.
3. Voice
A major change in the real estate industry hits the press. Our team gets the alert, researches how our clients are affected from a marketing perspective, and generates a strategy to relay this information to our clients in a clear, concise manner. The next step is actually speaking up. Because thought leaders don't just wait around for people to ask for their opinion or expertise. Thought leaders get out and make noise with the goal of sharing important knowledge.
They write a blog, they create a newsletter, they film a video, they speak up on social media platforms, they push news to their clients and followers, they learn and they share at every opportunity through every effective outlet. And they do so through quality content that people want to consume.
Want news updates from our team?
We send news updates via email, provide culture and industry knowledge through social media, publish blog posts every week, and send out a quarterly newsletter on marketing for multi-family real estate. Check out Agency FIFTY3 on LinkedIn, and reach out to our team here to learn more about our work and our publications.
Sign up for our newsletter.
Stay in the know about our insights and industry trends.